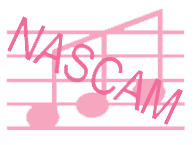 NASCAM Company Profile
Namibian Society of Composer and Authors of Music - NASCAM is a non-profit making organisation, a Collective Management Organisation - CMO which administering the rights of authors, composers and publishers of music in the republic of Namibia (Left- Official Logo). Its Constitution is that a company limited to guarantee, with no share capital. it pays no individuals and charges its members no agency commission. All fees collected by NASCAM after allowing for administrative expenses, are distributed among the authors, composers, lyricists, and publishers concerned, in proportion to the use which has been made of their works for performances in public. NASCAM is affilliated to several composers' societies all over the world, and through a system of reciprocal agreements it authorises all these societies to administer the music of Namibian composers, lyricists and publishers in their particular royalties constitute the composer's insurance for his/her dependents. Therefore, NASCAM main objective is to collect and distribute Royalties to both local and sisters Organisation members only.
NASCAM's Board of Directors
Overall Remit
The administration and control of the Society shall vest in its Board of Directors.
Read more from our CONSTITUTION As reamended up to December 2017 for Functions and Duties of the Board of Directors from here.. | Current Board Members here..
Our Partners & Stakeholders
Namibian Music industry Union

Oruuano Namibian Artist Union

Recording Industry of Namibia
Keep in touch
We love hearing from our members, visitors and people from the Creativity Industry. We really appreciate you taking the time to get in touch.
*please note: if you email us, either through the form, We will get back to you shortly, usually within 30 min - 1hour time. Also note that if you send an email on a Friday, we may get back to you only on the following Monday or Tuesday.
If you are contacting us for a business proposal or regarding advertising please mention it in your message.
5 Johnson St, Eros, Windhoek Khomas Region Namibia
This email address is being protected from spambots. You need JavaScript enabled to view it.
+264 61 229 116
+264 61 249 240
If you want more information please go to our contact us page and please note that you will be contacted as soon as possible. Alternatively: Download our vCard