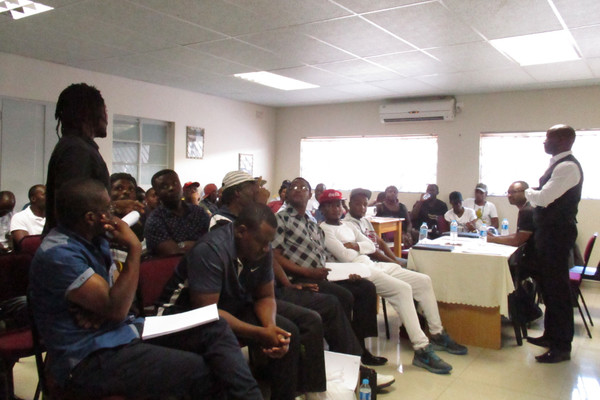 On 12 November, the Namibian Society of Composers and Authors of Music (NASCAM) held its Annual General Meeting (AGM) in Windhoek. The AGM attracted over 120 member creators to discuss and review the previous year's activities at NASCAM's meeting hall.
The meeting was the key moment for creators and the authors' society to discuss numerous topics including clarifying the term of the Board of Directors, receiving the Chairperson's report as well as receiving a presentation over the 2015 annual financial statements for the society. NASCAM Chairperson Silas Kishi Shakumu opened the AGM by welcoming attendees. During his report, the Chairperson acknowledged the exposure and exchange of information on copyright management during the past two and a half years between NASCAM and CISAC. This included at the 2016 CISAC General Assembly as well as the Regional African Committee (CAF) meeting in July. He expressed his appreciation for CISAC on having Namibia host the CAF in Windhoek as well as the meeting between CISAC Director General Gadi Oron and NASCAM members. The Chairperson noted that creators are becoming increasingly interested in the collective management organisation.
Afterwards, the Chairperson discussed the review of the NASCAM Constitution. The NASCAM Constitution is reviewed every third year for possible amendments. A provision to improve gender equality on the NASCAM Board as well as proceeding rules were reviewed for adoption during the next AGM.
Members received updates on new developments in the nation's copyright act by NASCAM Board Vice-Chairperson Josia Efraim, who also represents the Ministry of Information and Communication Technology. The Ministry is the custodian of copyright activities in Namibia.
Elections for a new Board of Directors will take place at the next extra ordinary AGM in April or May 2017.