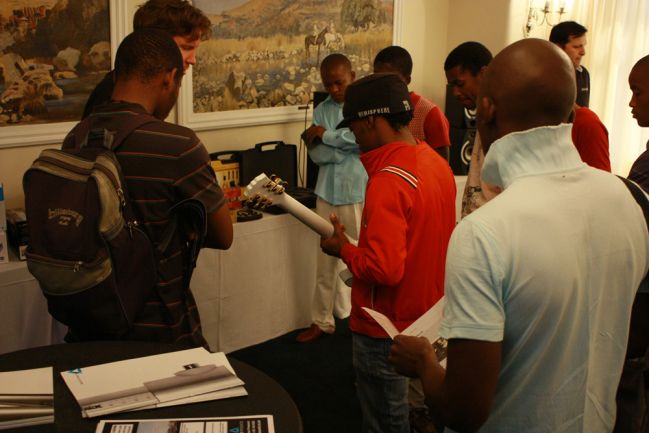 It is that time of the year again, where the music industry gathers together to network, share ideas and talk music business. The 8th KZN Music Imbizo will be taking place at the Moses Mabhida Stadium (Presidential Suites) in Durban – South Africa. The Imbizo will be from Thursday 25 August till Saturday 27 August, 9am till 6pm.
KZN Music Imbizo is a premier annual music business conference and exhibition. The conference collects various music industry stakeholders under one roof to map the way forward for the music industry. It is a platform to exhibit, network, share expertise and knowledge. The event has grown over the years attracting local and international organization and speakers like Prof. Joseph Shabalala (Ladysmith Black Mambazo), David Alexander (Sheer Publishing), Themba Mkhize (Artist/Producer), Zakes Bantwini (Artist), Monte Malone (MUSEXPO – Los Angeles, USA) plus global icons like Seymour Stein (Warner Bros – New York, USA). The 8th KZN Music Imbizo will be no exception and will be attracting speakers from Botswana, Namibia, Mozambique, Norway, Denmark and the USA.
This year's programme will include a six day performance schedule before, during and after the main KZN Music Imbizo conference and exhibition. Artists across a number of genres and backgrounds will be playing music at numerous venues across Durban. 60 up and coming artists will also get a chance to wow the audience during the day showcases. The day showcases will be happening at the Workshop Amphitheatre from Tuesday 23 August till Friday 26 August.
The theme for the KZN Music Imbizo 2016 carries forward an agenda started last year of looking closely at the opportunities that exist within the continent. The 2016 theme is titled – Afrika, my beginning … building a sustainable music industry within the continent.
Look out for more details on website, www.kzn-musicimbizo.co.za and across all social media platforms:
Facebook Page (KZN Music Imbizo)
Facebook Event Page (KZN Music Imbizo 2016)
Twitter: @kznmusicimbizo
Instagram: @kznmusicimbizo
Periscope: @kznmusicimbizo
Google Plus: KZN Music Imbizo